WORKSHOPS BY MEMBERS
To be scheduled.
Workshops by Special Guests
Jenny Lyon Workshops
The Jenny Lyon August 23rd and 24th workshop signups start at the April meeting.  Workshops are limited to 20 students per workshop.  Please have your cash/check ($60 per workshop) or credit card ($61.75 per workshop) available at the meeting to secure your workshop reservation.  Students will be required to provide their own supplies for each workshop.  Check out Jenny's website (quiltskipper.com) for the supply lists.   See below for a brief introduction to Jenny Lyon and workshop descriptions.
Each workshop will be a 6-hour in-person workshop with Jenny Lyon, the "Quilt Skipper".  The workshops will be August 23rd and 24th at Jackman's St. Louis from 10:30 AM-5:00 PM with a half-hour lunch break.
Jenny has been joyfully teaching the art of quilting since 2006. Her classes are encouraging, supportive, and light-hearted. She loves seeing her students realize that they CAN quilt their own work on a domestic machine. She teaches at various guilds, shops, and events throughout the country as well as at major international shows.
She uses her domestic sewing machine to create art quilts and wearable art. She loves to watch her machine stitches create line, texture and shadow as they merge on the surface of the fabric.  Her work has been juried into a variety of major shows including Houston and Paducah as well art galleries and SAQA exhibits. Some are held by private collectors.
Her current work is centered around whole-cloth pieces, with intricate free-hand free-motion quilting. Because there is little or no piecing, the story is told through the line of the thread. She considers this work to be "sculpting" the fabric, since the stitches create line and shadow upon the quilt's surface.
Fearless Free Motion – Start With a Square
Wednesday, August 23, 2023, Jackman's Fabrics – 1234 N. Lindbergh Blvd.  63132,  10:30 AM – 5:00 PM
Using a scrap of large-scale print fabric as a "starter", students learn how to create a unique free motion quilted quiltlette, step-by-step. This workshop is designed for students with some free motion quilting experience.  Although it's not a beginner FMQ class, a timid free motion quilter will gain confidence in this class. This is a great class for students with a little free motion quilting experience who want to learn to combine motifs and discover their own personal style. Various motifs and fills will be taught in class.
Jenny will send out a survey one week before with a variety of FMQ fill designs.  Students will vote on their top 4 choices so that the class is targeted to their interests.
Blooming Sheers
Wednesday, August 24, 2023, Jackman's Fabrics – 1234 N. Lindbergh Blvd.  63132
10:30 AM – 5:00 PM
This is just pure fun! Let's play with squares of sheer fabric, layering them on a quilted background to create colorful effects. This is color theory without color wheels or rules, just playing with color like a Kindergartner! This is a great class for a timid free motion quilter and more experienced quilters can add quilted plants, insects, animals…. This is a joyful class with a minimal supply list – does it get any better than that?
Dames & Diamonds All Day Workshop with MJ Kinman
 October 24, 2023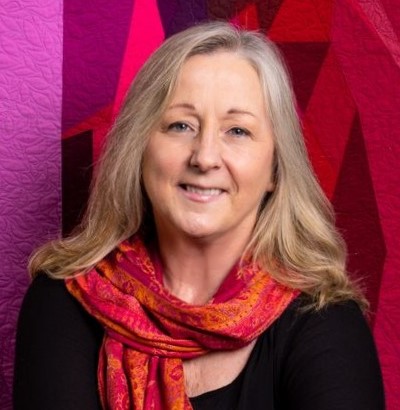 Details to follow
MJ likes to say she makes the biggest diamonds in the world. But instead of using the hardest substances in the world, she uses the softest – fabric. She describes the techniques she uses to create her giant gem portraits as traditional piecing using freezer paper for templates.
MJ's work has been exhibited in national competitions, galleries, and museums, including the National Quilt Museum and the International Quilt Museum. Her work is included in private and public collections, including Maker's Mark Distillery and the National Quilt Museum.
Her gems have been featured in American Quilter, Quiltfolk, Quilting Arts Magazine, McCall's Quilting, France Patchwork, and World Diamond Magazine. You may also have seen MJ on Quilting Arts TV and The Quilt Show.com with Alex Anderson and Ricky Tims over the past few years.
MJ's first pattern series, the Birthstone series, is a collection of 12 blocks representing the traditional birthstone gems. Her Diamond Divas series features large diamond quilt patterns. Her first book, Gemstone Quilts, was released by C&T Publishing in 2020.
MJ is a BERNINA Brand Ambassador and is always delighted to share her techniques with new and experienced quiltmakers alike. She presents her classes and trunk shows both in person and online.
For more information, visit MJ's website and social media sites:
Website: www.MJKinman.com
Facebook: www.Facebook.com/mjkinmantextileartist
Instagram: www.Instagram.com/mjkinman_textileartist