WORKSHOPS BY MEMBERS
To be scheduled.
Workshops by Special Guests
Save the date: October 24, 2023
Dames & Diamonds All Day Workshop with MJ Kinman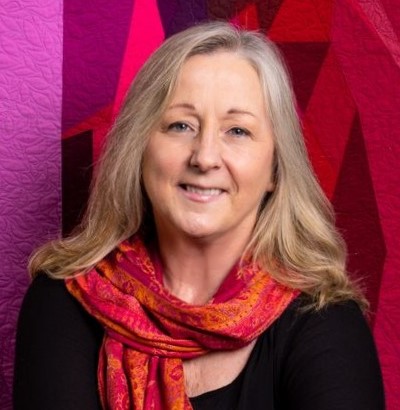 Details to follow
MJ likes to say she makes the biggest diamonds in the world. But instead of using the hardest substances in the world, she uses the softest – fabric. She describes the techniques she uses to create her giant gem portraits as traditional piecing using freezer paper for templates.
MJ's work has been exhibited in national competitions, galleries, and museums, including the National Quilt Museum and the International Quilt Museum. Her work is included in private and public collections, including Maker's Mark Distillery and the National Quilt Museum.
Her gems have been featured in American Quilter, Quiltfolk, Quilting Arts Magazine, McCall's Quilting, France Patchwork, and World Diamond Magazine. You may also have seen MJ on Quilting Arts TV and The Quilt Show.com with Alex Anderson and Ricky Tims over the past few years.
MJ's first pattern series, the Birthstone series, is a collection of 12 blocks representing the traditional birthstone gems. Her Diamond Divas series features large diamond quilt patterns. Her first book, Gemstone Quilts, was released by C&T Publishing in 2020.
MJ is a BERNINA Brand Ambassador and is always delighted to share her techniques with new and experienced quiltmakers alike. She presents her classes and trunk shows both in person and online.
For more information, visit MJ's website and social media sites:
Website: www.MJKinman.com
Facebook: www.Facebook.com/mjkinmantextileartist
Instagram: www.Instagram.com/mjkinman_textileartist